Product Description
Super plush bear toys, good quality, special design, you and your family will like our plush bear. Lovely appearance, delicate work, beautiful color, high quality. It's super soft and very plush. The surface of toys can be washed by water, which makes cleaning easier. Will all teddy bears make a great gift for the coming birthday, holiday or anniversary? Think of someone, they think of you? This is the perfect gift solution! Giving someone a huge Teddy Bear Tan is the best way to express how you feel. This is a perfect gift for any occasion, for any reason. Nothing can express my love for you better than a lovely teddy bear!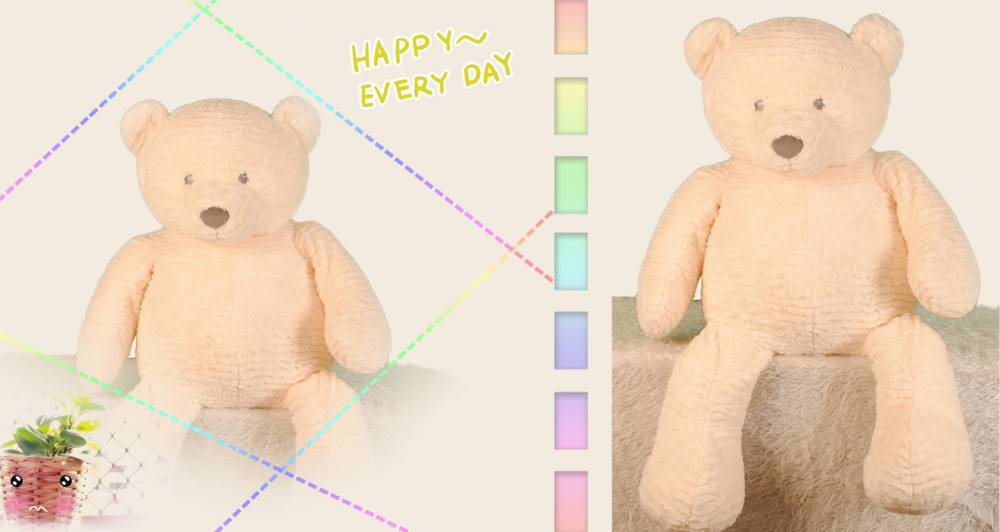 Essential information:
Classification: plush toys Product name:Super Big Plush Bear Toy
Modelling category: Animal The fabric : plush
size: Can be customized Filler: PP cotton
Cloth introduction: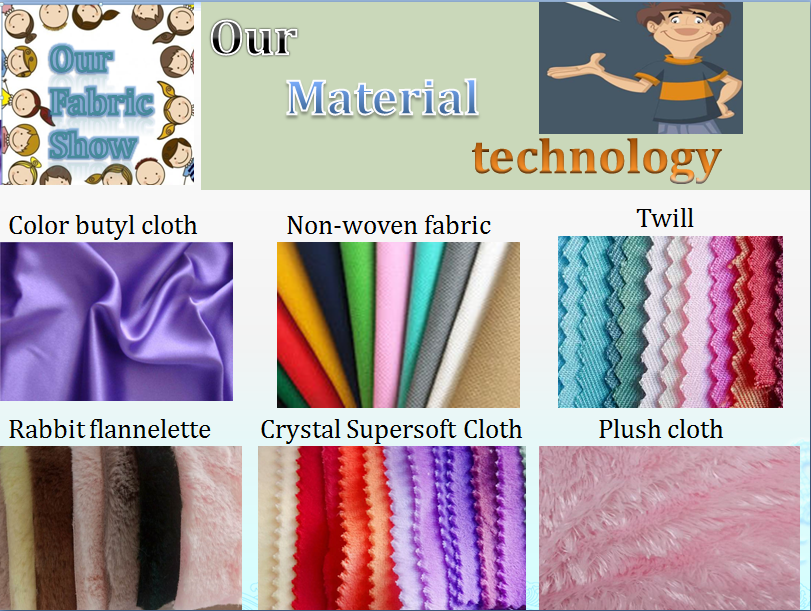 1.Yarn-dyed cloth: the structure of the silk thread is well shaped. The appearance is similar to 5 pieces of satin and 8 pieces of satin. The density is better than 5 pieces of satin and 8 pieces of satin. Specifications are generally 75 * 100D, 75 * 150D and so on. The raw material of tinted cloth: it can be cotton, blended or polyester, or pure chemical fiber, which is formed by the different organization of the fabric. The product that lubricious ding bu makes popularity is wide, glossiness drape feels good, feel soft. Elastic colored butyl cloth "adopts polyester FDY dayou light 50D*DTY75D+ spandex 40D as the raw material, and USES satin weave weave in the jet loom. Because the warp thread adopts dayou light silk, the cloth surface has charm, and occupies a place in the recent fabric market with the advantages of lightness, smoothness, elasticity, comfort and luster. Polyester low-elastic silk is the raw material, the fabric structure USES satin plain grain to change the texture, woven on the Air jet loom, grey cloth and then after desizing, pre-shrinking, softness and Other treatment, the fabric permeability is particularly good, and feel soft and smooth, fabric width is 150cm. Design and color d set comfort, modern sense, artistic sense in one of the new fabrics
2. Non-woven fabrics: They are directional or random fibers. They are a new generation of environmental protection materials. They are moisture-proof, breathable, flexible, light, non-combustion-supporting, easy to decompose, non-toxic, non-irritating and colorful.
3. Twill: various twill fabrics are used to make the surface of the fabric show oblique lines formed by warp or weft floating lines. Twill is a medium thickness denim, there are two kinds of thick, fine (20-40 pieces), are using 2/1 left twill organization, texture than plain cloth slightly thick soft, front lines clear.
4, rabbit wool: rabbit wool fiber scales are relatively smooth. Soft sex, hygroscopicity, do not have a ball, also be rabbit flannelette material underwear rises in recent years one of main reasons. Rabbit hair belongs to amino acid protein fiber, which is similar to the composition and structure of human skin, has a good skin-friendly feeling, and has the function of maintaining animal life.
5,Crystal ultra soft: crystal super soft wool surface to be more delicate, feel better. High density between fibers, strong three-dimensional sense of hair, beautiful appearance, compared with the original super soft, glossiness is higher, feel more soft and thick, fine texture, environmental protection and so on.
6,Plush:wool fabrics have a velveteen, velvet, velvet, cluster flannelette, polyester silk fabrics flannelette flannelette, knitted fabrics, cotton fabrics flannelette velvet, velvet fabrics, warp knitted fabrics flannelette (new varieties, with 50 d polyester yarn and polyester FDY such DTY75D / 36 f/strong mesh as raw material, using the knitting chain structure, fabrics successively after scouring desizing, finalize the design, dyeing, softening, stenter stereotypes, such as deep processing), hole ring flannelette, super soft plush cloth (the latest varieties), short plush cloth (the latest varieties)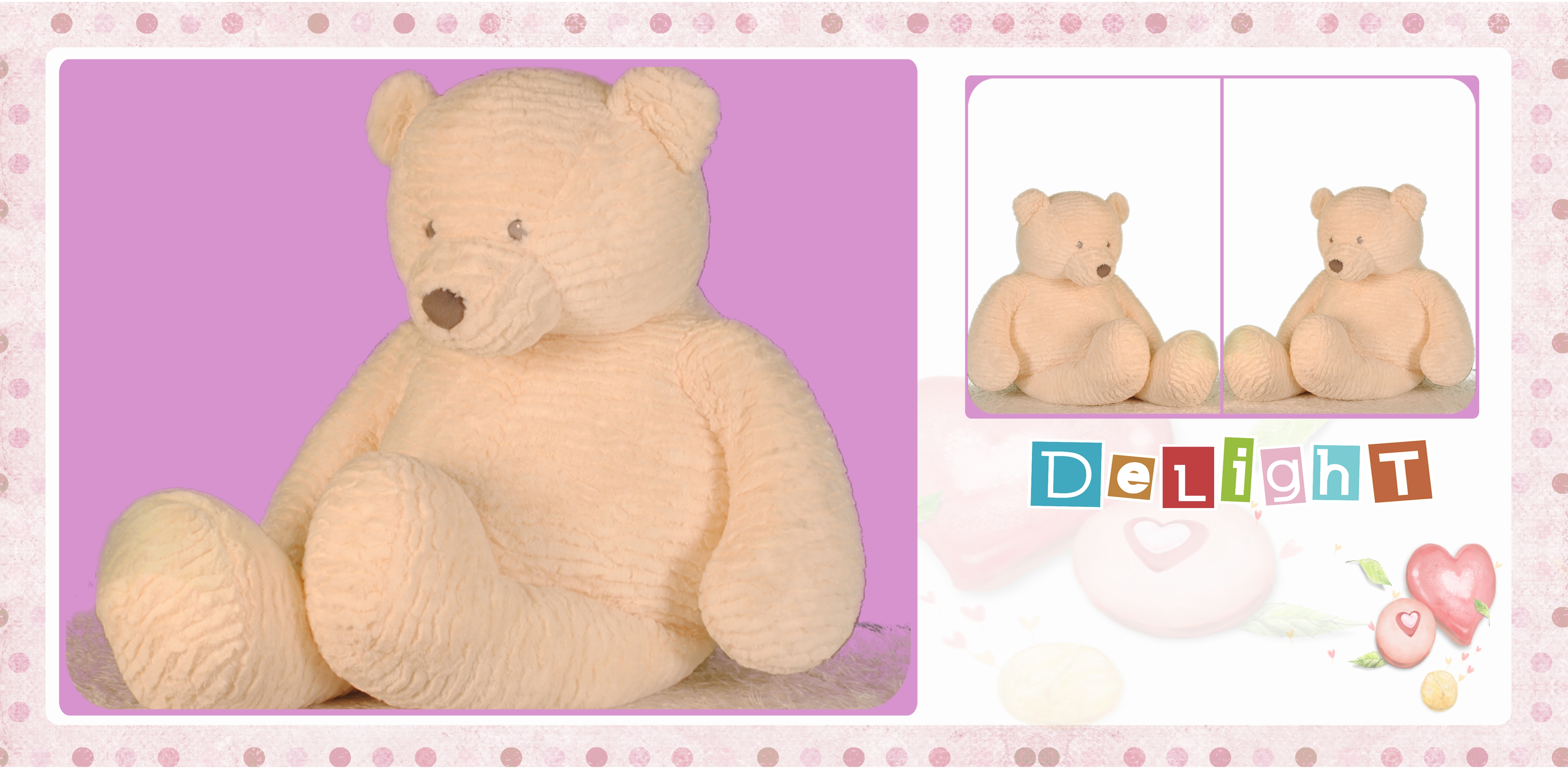 Production process:
Shape design – Proofing – Typesetting – Tailoring – sewing - Nail eyes and nose - Hand sewing seam – modelling – Forming - Needle inspection - Check goods – Packing
1. First of all, the design department or the customer handed in the sample, and then handed in the blanking workshop, and blanking
2. Locomotive sewing, the main task is to sew the main body, cloth label, sewing accessories
3. Installation of nose, eye and other accessories
4. Filled cotton
5. Hand sewing, shaping
6. High Pressure Air Pump Blows off Surface Fluff
7. Inspection, while cutting off the thread head and brushing off the wool
8. Play hang tag, pack and deliver goods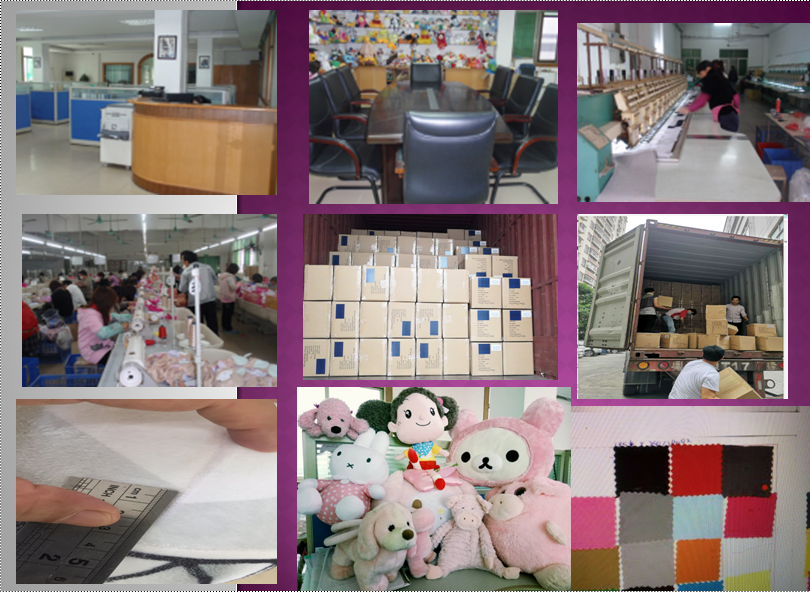 Delivery and after-sale
Genuine promises: All our products, quality assurance, please rest assured to purchase orders.
About the delivery date: We have a strong team to serve you, to ensure that customers order the delivery date.
About packing: We use punched plastic bags to prevent children from danger. The material of plastic bags can be provided by customers. We can produce them as required. Cartons, colour boxes and other packages can be customized according to customers'requirements.
After-sale service:If there are any quality problems in our products, we can unconditionally replace them.
The company's products with environmental protection materials, excellent workmanship, all kinds of supporting facilities, advanced technology, perfect management, excellent quality, reasonable price, rapid development, strict confidentiality, complete after-sales service. Only detailed product drawings (or samples) are required to provide customers with one-stop service from development to after-sales service.
Map customization:We have professional designers who can design according to your requirements. You only need to provide pictures of toys (physical objects or floor plans) to customize the products you want.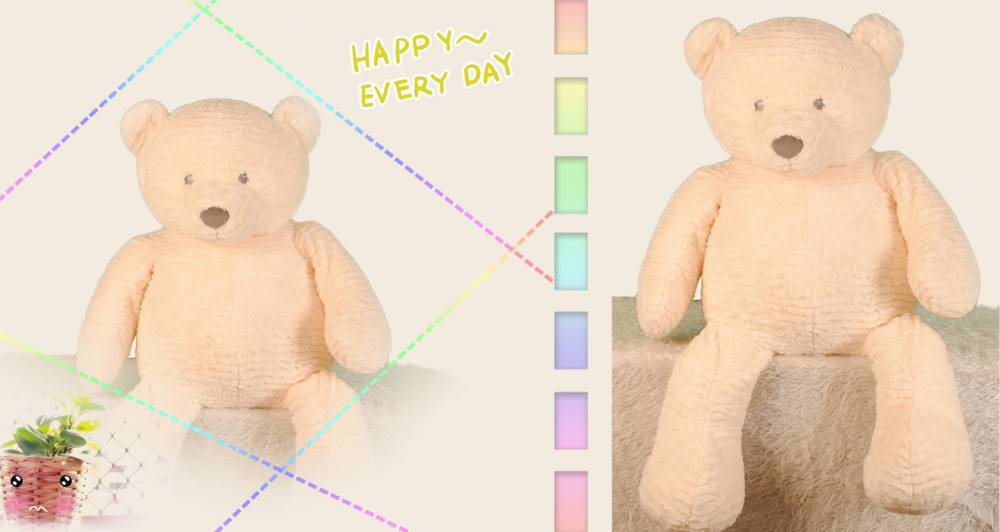 Warm prompt:Matters needing attention
1. Avoid food and beverages: if food and beverages remain on plush toys, they will attract a lot of dirty things, such as cockroaches, mold, etc., making plush toys dangerous goods;
2.avoid dust and humidity: plush toys if dust accumulation is serious, or in a humid environment for a long time, it is easy to breed mites bacteria mold, serious harm to people's health;
3. regular cleaning: plush toys need regular cleaning, so as to effectively inhibit bacteria and other harmful substances harm health. Or put it in the sun for a weekend to kill bacteria.
4.Plush toys must ensure that their internal fillers must be non-toxic and harmless, the main method is to observe the appearance of plush toys when choosing toys, the grade of raw materials is an important factor in determining the quality of plush toys; secondly, attention should be paid to the internal fillers of plush toys, good filled cotton feels like down clothes, very soft and uniform, and there will be no foreign bodies. Feeling and hard material sense; once again to see whether the small accessories are firm, toy eyes. Nose and protuberance need to bear a certain pull, and finally to recognize the product trademark.
5.We have professional designers who can design according to your requirements. You only need to provide pictures of toys (physical objects or floor plans) to customize the products you want.
SHEN ZHEN HAO XIAN LONG TECHNOLGY.CO.,LTD
The company was founded in early 1993 with a registered capital of 10 million yuan. Its main products are plush toys, cloth toys, electric toys, plush toy gifts, pillows, travel pillows, plush toy key chains, plush bags, Plush wallets and Other toys. In order to meet the market demand, the company has an engineering development department, which can provide customers with various pictures and designs. In recent years, the company's business has maintained a sustained and stable development. Its production and sales situation ranked among the top of the same industry in China for many years. Sales revenue, profits and tax payment showed an upward trend year by year. It has been at the forefront of the industry, constantly carrying out research and development, technology application and promotion of products, strictly enforcing the technical specifications and standards of the industry, and always mastering the industry. The development direction of technology and products, standardize industry market behavior, guide the trend of industry technology, and control the development of industry chain. The products are well-known overseas, 95% of which are exported. The main international markets include Europe, Asia, North America and South America, etc. Haoxianlong has a good product quality and reasonable price, and is popular with customers. The company's development, on the whole, starts with brand, market expansion, scientific and technological innovation, quality management, talent introduction, industrial extension and other aspects to improve the competitiveness of the company's industry.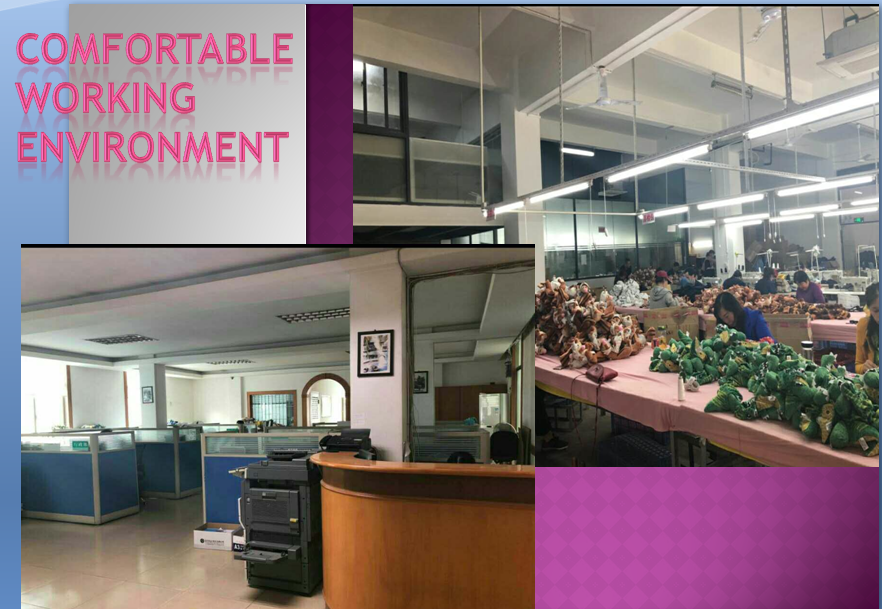 Company Name: SHEN ZHEN HAO XIAN LONG TECHNOLGY.CO.,LTD
Representative: Xiao lin song
Product/Service: Plush toy gift , Soft toy pillow , Plush toy key chain , Plush bag , Custom cad can toy , Plush purse
Capital (Million US $): Ten million RMB
Year Established: 1999
Total Annual Sales Volume (Million US $): US$50 Million - US$100 Million
Export Percentage: 71% - 80%
Total Annual Purchase Volume (Million US $): US$10 Million - US$50 Million
No. of Production Lines: Above 300
No. of R&D Staff: 11 -20 People
No. of QC Staff: 21 -30 People
OEM Services Provided: yes
Factory Size (Sq.meters): 1,000-3,000 square meters
Factory Location: NO2 ZHANGBEI VILIAGE AI LIAN LONG GANG TOWN SHEN ZHEN CITY
Contact Person: Ms. Miss Tan
Tel: 86-0755-89627888